It seems like Americans are just starting to realize the real importance of water conservation. The Environmental Protection Agency or EPA has been studying water conservation for some time now and they've found that the situation is much more serious than we think. They estimate that by as early as next year we could have severe water shortages in over 30 states. This is due to the fact that we have no limitations on water usage in some parts of the country, unseasonably dry weather and the current water treatment plants are inefficient and out of date. Dual Flush Toilets can play a big part in immediately reducing how much water we waste and if everyone would do their part we could drastically change this gloomy outlook for the better.
Caroma is credited for creating the first two-button flushing system in 1980. This revolutionary design let the user choose either a
half flush for liquid waste or a full flush for solid waste with the simple push of a button. By 1993 a lot of countries were adopting this technology due to the rising cost of water, increased environmental awareness and government regulation. The United States is not far behind, with water shortages on the horizon it may only be a matter of time until Dual Flush Toilets are a permanent fixture in every bathroom.
Besides saving water, Dual Flush Toilets have another distinct advantage. Standard toilets use a lot of water to create a siphoning effect when disposing waste. Water quickly fills up the bowl and siphoning tube which causes a suction effect that pulls the water down the drain. Dual Flush Toilets on the other hand have a larger trap way and a wash down flushing design that actually pushes waste down the drain instead of siphoning. Since there is no siphoning required for a Dual Flush Toilet, the whole system requires less water per flush and the larger trap way lets the waste exit the bowl without clogging up the toilet.
Check out this video to see the difference from a standard toilet and a Caroma Dual Flush Toilet.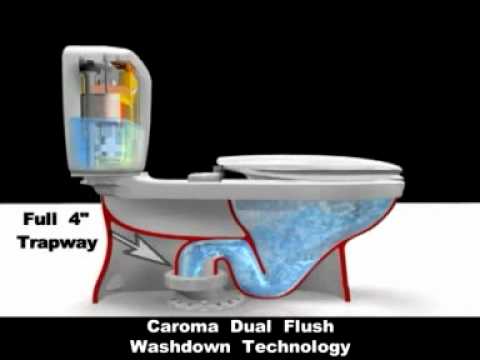 Even though Dual Flush Toilets are not mandatory in every American home, the government has taken their first positive steps in mandating water consumption. Since 1994 all toilets sold in the U.S. were required to use no more than 1.6 gallons per flush. This has caused other leading toilet manufacturers like Kohler, Toto and American Standard to come up with their own versions of High-Efficiency Toilets. These HET's use technologies like gravity flush, dual flush and pressure assist all while meeting or exceeding the 1.6 gallon per flush maximum. This technology has proven solid but some users prefer a Dual Flush Toilet over a high efficiency toilet because it gives them greater control over the amount of water used per flush.
Even with the changes in law almost two decades ago, there are still millions of toilets in use that use up to 4 gallons per flush! To get these toilets out of commission the government has offered rebates and tax incentives to home owners with some success but there is still a lot of work to be done. With the amount of pre-1994 toilets still out there and the average person flushing a toilet five to eight times a day, we are wasting an astonishing 2 billion gallons of water a day in the United States alone. Water conservation is fast becoming a huge issue and with our growing population, insufficient water treatment plants and ever increasing droughts, we will all have to do our part for the sustainability of the planet, So please consider replacing your old toilet today!
Read more about Green Toilets here!
Shop today for the lowest prices on Green Products from your friends at FaucetDepot.com!