Have your hands ever been dirty when you approached the kitchen sink and you just know that as soon as you are done washing up you will need to wash the faucet as well? Who wants to have to clean up twice? Delta knows that you don't which is why they have developed their patented touch technology. Delta's touch technology known as Touch2O allows you to tap anywhere on the spout or handle with your forearm or your wrist to start the stream of water. No more dirty faucets just because your hands are dirty!  The Delta Pilar Kitchen Faucet with Touch2O is one of Delta's top selling faucets.
If you need the ability to start the faucet without touching it at all then you can select a hands free
model, which contains sensors that understand your movement indicates the need for the water flow. Run your hands under the faucet and begin receiving water immediately, Delta has made it that simple with faucets like the Delta Addison with Touch2O.xt. and the Delta Lahara Single Handle Bathroom Faucet with Touch2O.xt. These faucets are perfect for auto mechanics, avid gardeners, construction workers or homes with children that continually require a unit to be ready for soiled hands time and time again. Think of the time you could save over the course of the week and the germs that could be avoided by having a faucet that works with your hand movements.
One question that many consumers have is how you can control the water temperature with hands free units. Set the temperature with the lever to your desired temperature and the faucet will retain that setting throughout each use. If you need to change the temperature then simply relocate the handle to the new temperature and turn off when completed. Having the temperature preset makes it easy to obtain a consistent experience each time you wash or rinse and this can also be used to help prevent children from scalding themselves.
Another question that arises with automatic or hands free system is safety. What if a child or household member runs their hands under the water or does dishes and walks off forgetting to shut the water off? Delta has you covered with automatic shut off built in after one minute of consecutive running when it no longer senses hand movement. You can rest easy knowing that the faucet will prevent your sink from over flowing causing water damage to the kitchen or bath. Delta's Touch technology is state-of-the-art and provides a whole new way to use your faucet and sink. Spend more time doing what you love and less time cleaning when you select Delta for your kitchen.
If you're interested in this technology for your home but still not convinced, then check out these video's below on Touch2O and Touch2O.xt technology.  After you see the ease of use and advantages to these faucets the decision will be a no-brainer.
For even more information and pricing please visit FaucetDepot for Delta Touch and Hands Free Products at Everyday Low Prices!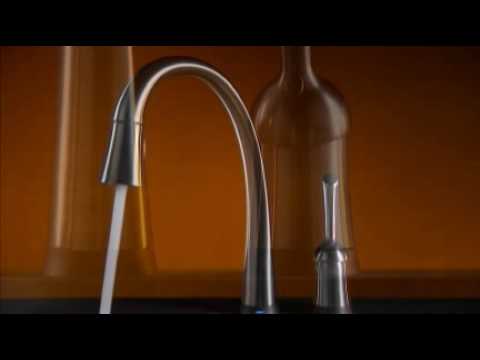 Delta Pilar Kitchen Faucet with Touch2O Technology

 
Delta Addison and Lahara Bathroom Faucets with Touch2O.xt Technology